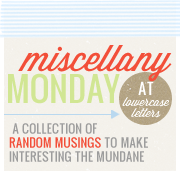 This is a cool thing started by Carissa Graham at the blog
lowercase letters
. This is my first time participating...so here goes...
1. When Vacation Becomes Staycation
You've heard this buzzword "staycation" thrown around this year? The idea of course being taking vacation at home mainly for the purpose of saving money. Well, we had planned to actually take a vacation...granted a very cheap vacation...but we now find ourselves on a staycation as our son DOES NOT SLEEP. We had reservations to go camping for a couple nights over at Pismo Beach, but decided Ephraim needed routine more than fun right now. So we are at home, but trying to do some small things like feed the ducks at Plaza Park and grab some cupcakes at The Frosted Muffin downtown.
Do you buy a one-year-old a Halloween costume? My initial reaction is "no", but my husband's is "yes"! Ha! I'm just all about saving money and I don't really see where we would take him in his costume, but my husband is all about doing what's fun and dressing up our little man as some sort of animal or whatever else is on sale sounds fun. Thoughts?
3. Christmas in September
That's what we call it in the Feierbach household. Chris's birthday falls in this month. Along with his dad, his brother, his brother-in-law, and my dad. We're gearing up!
We're having dinner with my parents tonight. Life is so different living by family. I hope we take full advantage of it while we are here.