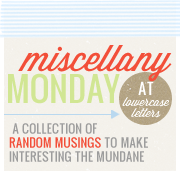 1. Let's Hang Out!
This past weekend involved a lot of time with friends and family (for us)! We went to my sister-in-law's house and played with her and her kids, we had dinner with my parents before driving around to see Christmas lights, we had my husband's cousin and her family over, and we had dinner at my in-laws' house. And you know what, we loved it! It was so fun. And all of this led to a discussion about how we need to do this kind of stuff more often.
2. Leaves and More Leaves
Fall hits Visalia a little later than the rest of the country, it seems. For it is now, almost Christmas, that our front yard is covered in leaves and we finally get to play in them. (Well, not technically this week since it's been straight up raining since last Thursday).
3. Wrapping Done.
This morning we wrapped our last couple of gifts and I put the box of wrapping back in the garage for storage! I enjoy wrapping, but it's always nice to be done with a task, isn't it?
May your day be merry and cozy!