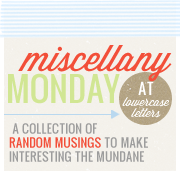 This is Ephraim's first Christmas with us. Last Christmas, he was in Ethiopia. They do celebrate Christmas there, although I believe it takes place in January. And I'm not sure if the orphanage does anything festive.
Traditions. There are some traditions that I hold to and treasure. But I also really like change in life. So I tend to do some things differently every year. Example: I try to always decorate the house for Christmas during the weekend after Thanksgiving as this was our tradition growing up and I love it. On the other hand, I decided I should bake some Christmas cookies the other day so I went to a random cookbook and decided on a random recipe. My family makes the same cookies every year and I love those cookies. But something in me wants to try new things, too.
Family Weekend. We have set aside the upcoming weekend to enjoy Christmas-y things, just the three of us. This last weekend was busy and exhausting, so we are looking forward to laying low and enjoying the season with each other. I think we'll sip hot chocolate, bake, wrap some presents, watch some Christmas movies, and all that sort of hullabaloo.
Happy Christmastime! May you enjoy the celebration that each day brings as you give thanks for Jesus' birth.