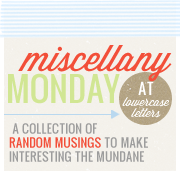 (1) The Little Yellow Rake
Chris went to Lowe's the other day and bought Ephraim a little rake for $5. He already had a little tiny sand rake, but that's for babies, and he knows he's no baby, ya'll. The new rake is to appease his desire to use Daddy's rake. Every day now we go outside so he can drag this little rake around. Good idea, Chris!
(2) A Runny Nose
Ephraim's nose has been a little runny for a few days now, but it's clear (I know you wanted to know) and he doesn't seem sick at all. I think he's just been cold. So being the good parents we are, we have been upping our thermostat and bundling him up more in and out of the house. He's always been such a warm child so I guess it took a runny nose for us to realize he does get cold sometimes!
(3) A Little Giveaway
Carissa at Lowercase Letters is having a giveaway for some jewelry from Lisa Leonard.
Click here
if you're interested.
(4) Working Mama
I mentioned last week that I am now an independent consultant for Arbonne International. This weekend was my first really diving into this new venture. I did two parties. I'm excited and both were successful. But of course, this is an adjustment for all of us. Chris and Ephraim aren't used to spending so much alone time together. And I'm not used to working outside of home. But we made it through the weekend and I know it'll get easier all around.