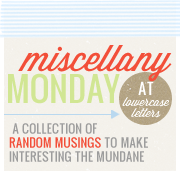 I remember before I was a mom, listening to my sisters-in-law (who were already moms) talk about their endless piles of laundry and how there was always more laundry to do. They were right, my friends. It never ends.
We're getting one and I can't wait. We've got some plans, people.
My son is going to be 2 in a couple of months. What!?! Lord help us through the terrible twos of this stubborn (or with the positive spin I'm trying to put on it..."persistent") little boy!
Happy Monday!