I'm linking up with Miscellany Monday to write a little random today.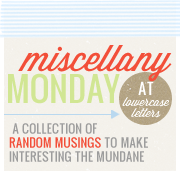 1. We had a busy weekend! We joke about "Christmas in September" in our family because so many birthdays fall in this month. Chris's birthday was Friday and his brother's was Sunday. This weekend celebrated all September and August birthdays with my family, which includes Chris, my dad, and my grandpa. Next weekend, we'll celebrate all the September birthdays on Chris's side which includes Chris, his brother, his brother-in-law, and his dad. Party party!
2. Saturday morning we dropped the kids off at my in-laws' so we could get some packing done and we accomplished a lot in a few hours! While the boys went to watch cousin Sam play soccer, we enjoyed pumpkin spice lattes on the couch; cleaned our couch, listed our couch on Craigslist, and sold our couch (it's gone!); listed some other items on Craigslist, and packed some boxes! I suppose I have failed to mention that we found a new home!
3. We found a new home! We are downsizing to an apartment, ya'll! We're really excited about it! We've been wanting to downsize for quite some time and we've also been feeling really convicted about being in community where we live. So we found these apartments we love with pools and playgrounds and HOT TUBS (I LOVE hot tubs!), and we're thinking it's going to be really cool to live in this apartment complex and do laundry with the same people all the time and see the same people at the playground and at the pool and just get to know our neighbors! So we move in less than a month. Let the crazyness begin! Or I guess I should say "continue"!
4. I hung some fake fall leaves in the living room today. I did it for E. I love Fall as much as the next gal, but I like to sort of stick to the season we are in until we are out of it. (Ignore the pumpkin spice lattes admission above :) ). Plus I'm thinking there's no point in decorating my house for Fall only to pack everything up and move it in less than a month. But E can't wait till Christmas and he knows Fall has to come before Christmas. He also knows Grandma had fall leaves up last time we went to her house so he asked me to put up our leaves. I said I thought we'd wait until we got to our new house and he told me that made him sad. What do you do? Me, I walked into the garage, opened my box of Fall decor, grabbed one strand of leaves, and laced them over our living room mirror. And I made E happy.
Have a great week, friends!