I haven't joined in with Miscellany Monday in a loooong time!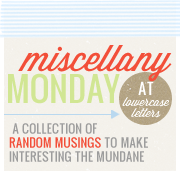 1. My dear friend Devonna and I traded photo shoots the other day! I've wanted to do this with another photographer for quite some time. I'm hardly ever in photos because I'm always the one snapping them. And our family photos were about a year old so I was really excited when Devonna agreed to a little bartering. I took some family maternity photos for her and she did some family photos for us. Here is one of my favorites.
2. On Saturday night, our boys stayed with my in-laws so Chris and I could have a much needed break! It was fabulous! We went out to dinner, relaxed with a movie, slept in, and in the morning we did some errands that are hard to accomplish with the children in tow.
3. This coming weekend, I get to go to the mountains for a womens retreat with my church. I am really looking forward to a weekend away from responsibility, though I feel bad leaving my husband alone with the kids for 3 days! What a trooper he is!
Happy Monday!