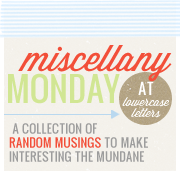 Happy Monday!
1. I had a fabulous time at our church's women's retreat this weekend! I was filled up and inspired, and I'm very grateful the Lord gave me that time and spoke to me during it! One of the most helpful things that was said over the weekend was this: "Loving God with your mind is not a contradiction." I'm a head person, ya'll. I'm not super "feel-y" or sentimental. Sometimes I feel like I have to be that way to really love God, that it has to be this super emotional experience. But the speaker was explaining we can love God with our minds, too, and that God gifts some people with wonderful minds and so we must be good stewards of those minds. This was beautiful to me.
2. My kids needed a break from me! I needed a break from them, too, but they were so excited to see me when I returned from the retreat yesterday, it brought joy to my heart. I think we need to have time away from our kids sometimes so they can realize they miss us! That we're not just those people who nag them all day!
3. We're going to Disneyland soon!!! I am so very excited about this trip! It's the first time we're taking our kids AND we got a $200 Disney gift card so the tickets are not costing us much at all!
This week, May you find time to rest. May your find time to be inspired. May you find time to listen.